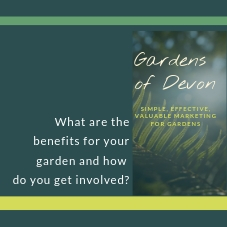 Hello - do you own a garden in Devon that opens to the public? Are you on our map?
We aim to list all the gardens that open to the public. Those gardens that join us receive all sorts of other benefits. The most simple is a link to their website, and all their events listed on our calendar. We also write news and features about them on the site, in press releases and in our monthly newsletter.
To learn more please download our information pack, or get in touch. We'd love to help promote all the gardens in Devon - we hope you join us.
Please complete the form below